The Summer courses abroad for 2020 and 2021were cancelled. We hope that we will be able to offer the course in the Summer term of 2022. Stay tuned! 
18 students joined the summer abroad course in Greece, on Modern Greek History, in 2019 Summer Term, spending four weeks in Greece, in Athens, Syros and Nafplio, among other places.
Dr. Gekas taught in 2016 a summer abroad course in Greece through the Dept. of History, York University:  HIST 3357 6.0 Greece:  A Modern History from 1800 to the Present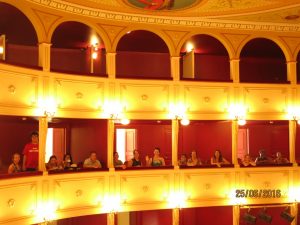 Brief Course Description: The course analyzes some of the major developments in European and world history during the Nineteenth and Twentieth Century and then explains how those momentous changes were experienced in one country: Greece. Based on Athens but also taking trips for on site teaching the course provides in-depth understanding of major developments in recent Greek history and connects them to key moments in European and world history.
Expanded Description: This course explores the history of modern Greece through the history of Athens from the times of the Greek revolution and independence (1830) to discuss city growth and the making of Athens as a capital city. Visits to other cities, Ermoupoli and Volos, demonstrate the rise of commerce, shipping and industry and Athens as the host city of the first modern Olympics in 1896. Other topics include the making of the Greek working and middle classes, Athens as a capital of world culture, the ideology of territorial expansion of the country and the causes and consequences of World War I for Greece. The transformative consequence for Greece was the arrival of nearly 1.5 refugees from Minor Asia who changed the whole country, Athens included. The course examines the integration of the refugees in the city(-ies) and the country, as the country went through economic collapse (1932) and a fascist dictatorship (1936). The 1940s were equally devastating for Athens / Greece, as they were for the rest of Europe; the course looks into the history of anti-Nazi resistance, but also locates the beginnings of the Cold War, the competition between capitalism and communism, between East and West, in the 'battle of Athens' in December 1944. The course continues with the story of internal migration and city expansion in the 1950s and 1960s, industrialization, political and social movements of the 1960s, the dictatorship of 1967-1974 and the trajectory of the city and the country towards the European Union. The course ends with a discussion of the current crisis and its impact on Greece and the city of Athens taking the students right to the present day.
Download his detailed powerpoint presentation for more information.