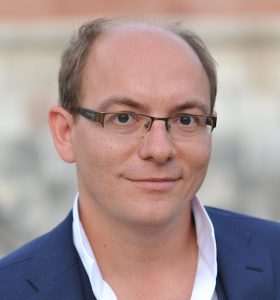 Dr. Athanasios (Sakis) Gekas is an Associate Professor of History in the
Department of History
at
York University
specializing in Modern Greek and Mediterranean History. Sakis is also the coordinator of the
Hellenic Studies Program, Department of Humanities
at
York University
.  He obtained his MA (Social History) and Ph.D. (History) from the University of Essex and his BA (History) from Ionian University, Corfu.  His research interests include the history of British colonialism in the Mediterranean, the economic and social history of the Ionian Islands and the Greek State in the nineteenth century, and the history of Greeks in Canada. Sakis is also the President of the Hellenic Canadian Academic Association of Ontario and a member of the Executive of the Modern Greek Studies Association.
Teaching
2021-22 on sabbatical leave
2020-21 (all taught online)
HIST 3356. Greeks in the World. A History of Greek migration and diaspora in the 20th century
HIST 3326.
HIST 4375. Topics in Modern Greek History: "Greek Fever". A history of the Greek Revolution of 1821
HIST 6001. Directed Reading Course: Social and Economic History of Modern and Contemporary Europe
2019-20
HIST 3357. Greece; a Modern History since 1800. This course is taught as a summer abroad course.
HIST 3356. Greeks in the World. A History of Greek migration and diaspora in the 20th century (online course)
HIST 2300. A history of Modern Europe. From the French Revolution to the European Union
 Publications
Απόμαχοι. Οι αγωνιστές της Επανάστασης του 1821 στο Οθωνικό Κράτος ("Veterans. The fighters of the 1821 Revolution during the period of King Otto's State"). Εκδόσεις Εθνικό Ίδρυμα Ερευνών / Ινστιτούτο Ιστορικών Ερευνών, Ιστορική Βιβλιοθήκη 1821, Athens 2021.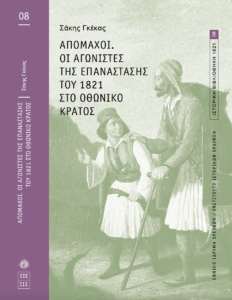 Ξενοκρατία. Οικονομία, Κοινωνία και Κράτος στα Επτάνησα (1815-1864), Εκδόσεις ΕΑΠ.
https://www.houp.gr/product/xenokratia/
 Xenocracy. State, Class and Colonialism in the Ionian Islands, 1815-1864, Berghahn (2017). You can find more information about the book here:
http://www.berghahnbooks.com/title/GekasXenocracy
 A flyer with more information about the book:
A few other selected publications include:
A special issue in the European Review of History on "A Colonial Sea: The Mediterranean 1798-1956" with Manuel Borutta, Vol, 19, No. 1, 2012
In 2014 Sakis published in Greek an economic history of the region of Voio and Argos Orestiko during the Ottoman period (16th-17th centuries): "Το Βόϊο και η περιοχή του Άργους Ορεστικού της Δτυικής Μακεδονίας κατά την Οθωμανική περίοδο 16ος-17ος αι.. Οικισμοί, Φορολογία και αγροτική οικονομία" (με τον Στέργιο Ζήκα), Θεσσαλονίκη: Ερωδιός, 2014.
In 2012 Sakis published in Greek the history of a village in Western Macedonia, Greece, from the middle ages to the 20th century: "Δαμασκηνιά (Βιντελούστι) της Δυτικής Μακεδονίας στο χώρο και στο χρόνο" (με την Αριάδνη Αντωνιάδου και τον Στέργιο Ζήκα), Θεσσαλονίκη: Ερωδιός, 2012.
Greek Canadian History Project (GCHP)
In July 2012,
the Greek Canadian History Project
(GCHP) at York University was founded with Sakis Gekas, HHF Chair in Modern Greek History and Chris Grafos, History Ph.D. as its co-stewards. Beyond its inherent value of collecting and telling the stories of the Greek diaspora in Canada, the GCHP is an initiative designed and committed to identifying, acquiring, digitizing, preserving, and providing access to primary source materials that reflect the experiences of Canada's Greek immigrants and their descendants.  The Greek Canadian History Project will become fundamental in illuminating and sharing the history and events that have shaped the experiences of Greek immigrants in Canada and their descendants.